Easy Thanksgiving centerpieces
As you finish up the shopping, cooking and cleaning, the last thing on your mind may be decorating the table for the big event.  Fear not, here is a cool selection of easy and inexpensive centerpiece ideas that will make your table so festive that tom turkey may not take center stage this year!
White pumpkins and candles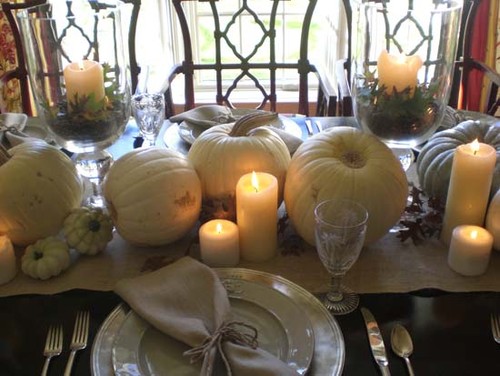 Gourds and moss balls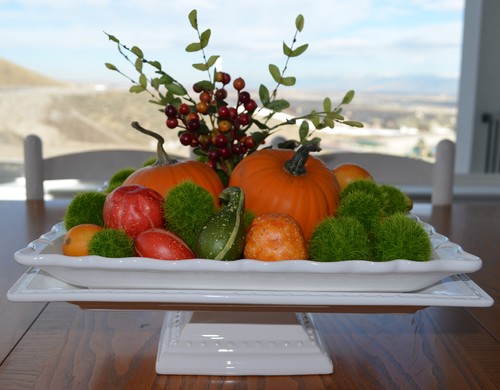 Gourds under glass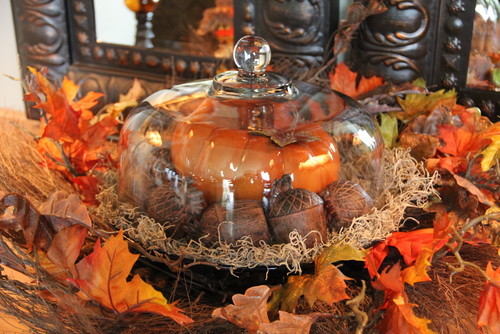 Herbs and candlelight
This is the recipe I'm using with the turkey leftovers:
White Bean Turkey Chili
1  tablespoon  canola oil
2  cups  diced yellow onion (about 2 medium)
1 1/2  tablespoons  chili powder
1  tablespoon  minced garlic
1 1/2  teaspoons  ground cumin
1  teaspoon  dried oregano
3  (15.8-ounce) cans Great Northern beans, rinsed and drained
4  cups  fat-free, less-sodium chicken broth
3  cups  chopped cooked turkey
1/2  cup  diced seeded plum tomato (about 1)
1/3  cup  chopped fresh cilantro
2  tablespoons  fresh lime juice
1/2  teaspoon  salt
1/2  teaspoon  freshly ground black pepper
8  lime wedges (optional)
Heat oil in a large Dutch oven over medium-high heat. Add onion; sauté 10 minutes or until tender and golden. Add chili powder, garlic, and cumin; sauté for 2 minutes. Add oregano and beans; cook for 30 seconds. Add broth; bring to a simmer. Cook 20 minutes.
Place 2 cups of bean mixture in a blender or food processor, and process until smooth. Return pureed mixture to pan. Add turkey, and cook 5 minutes or until thoroughly heated. Remove from heat. Add diced tomato, chopped cilantro, lime juice, salt, and pepper, stirring well. Garnish with lime wedges, if desired.
Mr. H says: Thanksgiving is the one day that is uniquely American and its important to  give thanks for unknown blessings already on their way-Enjoy!